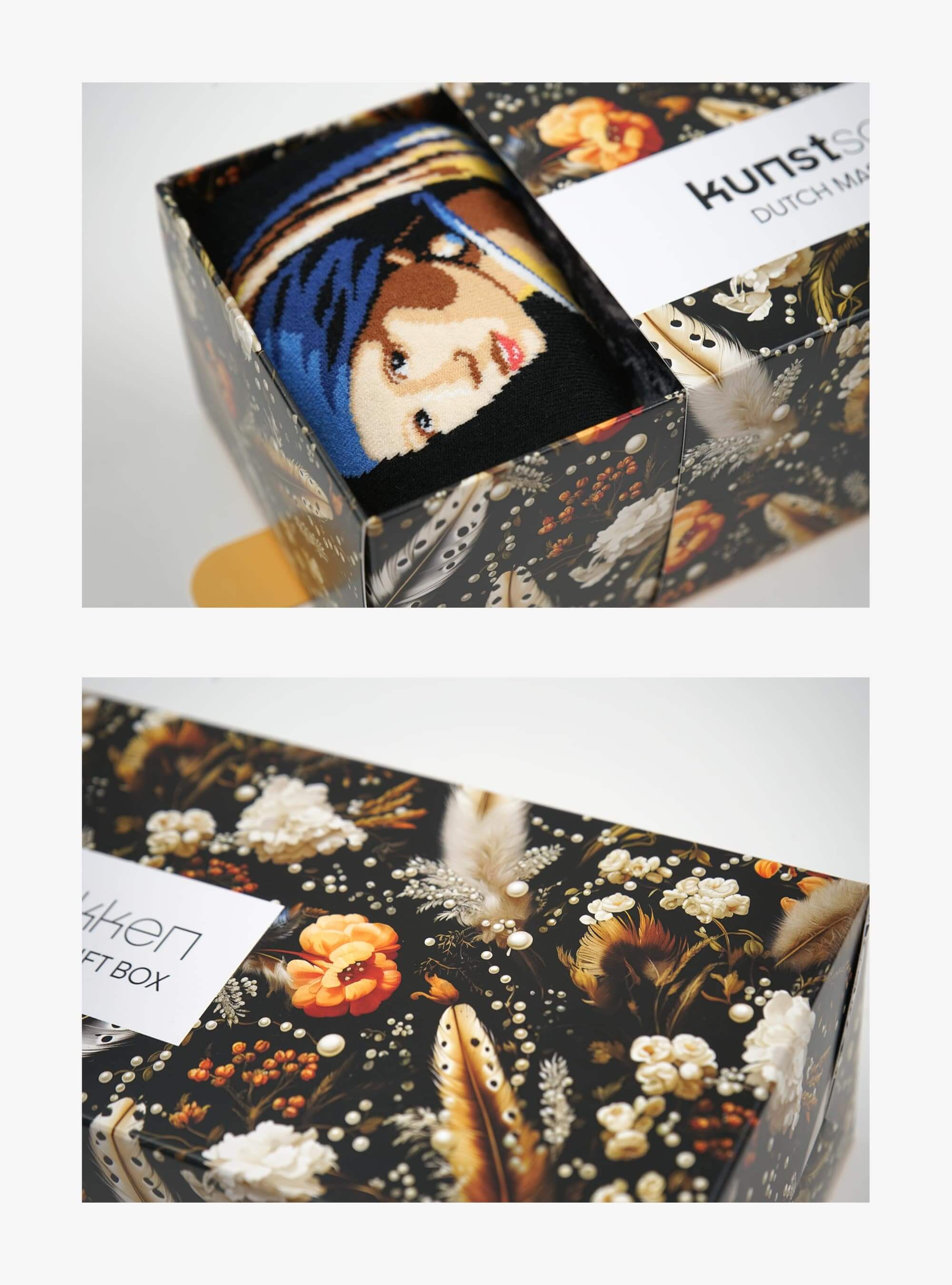 Dutch Masters Gift Box
Organic Cotton
Fade-Resistant Colours
Seamless Comfort
Levering binnen 2-3 werkdagen met PostNL
Gratis verzending vanaf 35,-
14.000+ blije kunstliefhebbers
Makkelijk retouren binnen 30 dagen

Impress friends and family with an original gift, our Dutch Masters gift box. This carefully selected set features three pairs of socks inspired by a masterpiece from the Dutch Golden Age.
The subtle elegance of "Girl with a Pearl Earring", the calm drama of "The Threatened Swan" and the piercing soul of "Self-Portrait with Beret, Open Mouth" are all intertwined with the comfort of our soft, durable socks.
Give a gift to remember:

Iconic Trio: Wearable works of art that add a creative touch to any outfit
Vibrant Colours: Bright, hard-wearing colours bring the classic vision to life, wash after wash.
Ready to give: The carefully designed packaging is one to remember
Thoughtful & Sustainable: Made with organic cotton: a gift that feels good to give
80% Organic Cotton, 15% Polyamide, 5% Elastane.

This will keep your Kunstsokken beautiful for a long time:

Wash at max 40 degrees
Do not tumble dry
Do not iron
Shipping times per country:

NL: 1-2 working days
BE: 1-2 working days
DE: 1-2 working days
DK: 2-3 working days
Rest of Europe: 3-5 working days
We are incredibly proud of our partnership with GROW MY TREE. Together with them, we donate a tree with every order to communities that really need them. GROW MY TREE plants the trees in cooperation with local farmers and villagers.

Together, they ensure that the trees grow and stay healthy. Great care is taken to ensure that the trees improve biodiversity, not reduce it, and that especially women can be offered a job this way.
We weten zeker dat jij verliefd raakt op onze sokken. Ben je na 30 dagen niet 100% tevreden? Dan zorgen wij voor een volledige terugbetaling, zonder gedoe.
Wear your love for art
Soft, comfortable and creative - these are your new favourite socks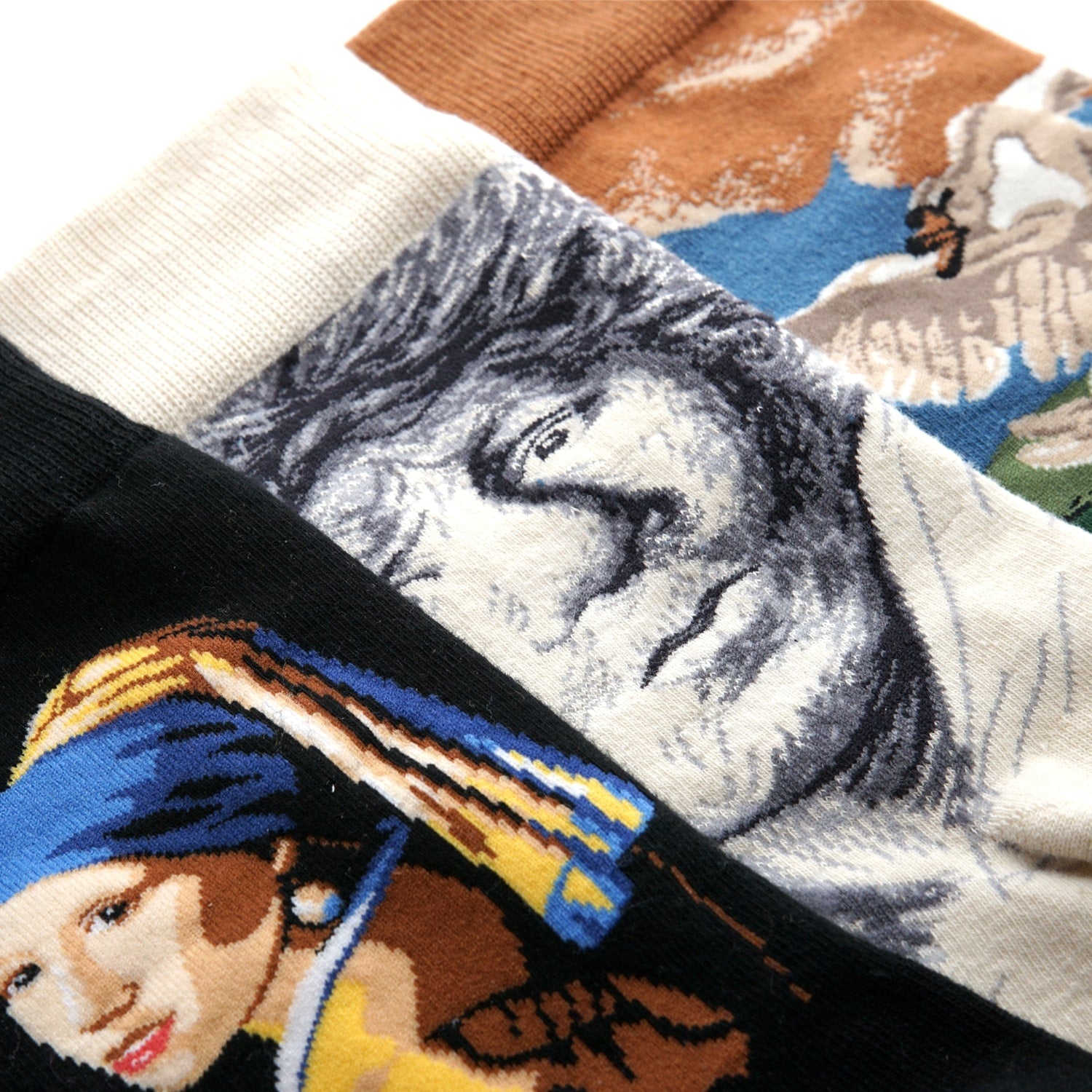 Soft & stretchy comfort
Soft cotton with a slight stretch, super comfortable all day long
Fade-resistand colours
Wash-resistant colours that remain bright and beautiful even after dozens of washes
Made to last
Better materials make Kunstsokken last longer than other socks
Better for the environment
Our socks are made with cotton grown organically: better for you, and better for the planet
4.7/5 out of 1.256 Reviews
What customers say about our socks
Lees alle reviews
Wonderful gift
Beautiful quality socks, nice and well packaged. My daughter was super happy with them!
J.B. Rimkus, NL
Delight
I enjoy the paintings on the socks. They remind me of museum visits in the past and I look forward to going to a museum again.
Brigitta, NL
Thinking about buying Kunstsokken? Do it!!
Kunstsokken are not only beautiful, pleasant to wear, tasteful (also for others), but also of good quality after repeated washing! Anyone who wants to change the theme for a change, do it!
Brigitte, BE
Artful socks!
Fine quality socks. As an art lover, you can't help but have a pair of Kunstsokken. Also good service and fast delivery.
Korrie, NL
Beautiful and comfortable wearing socks
Kunstsokken are not only beautiful, they are also comfortable. The quality of their socks is excellent and I can recommend them to anyone.
Mr. Scheerboom, NL
Fast delivery
Fast delivery, super nice surprise in personal attention, nice quality, good print, bright colours .... AMAZING socks worthy of this Genius Art!
Mienke, NL
Very nice socks
Very nice socks, delivered quickly. Now I still have to give them as gifts
MJK, NL
Great company with funny products
Nice company with funny/pretty products, also very customer-friendly, had a problem with 1 pair and was taken care of and dealt with immediately
EK, NL
Service and customer-friendliness
Nicely packaged with accompanied art postcards. Fast service, I recommend it to everyone.
H.C. Kraster
Heavenly art socks
Smooth delivery socks are of excellent quality. The socks fit wonderfully on the foot and are beautiful!
Martine Gobel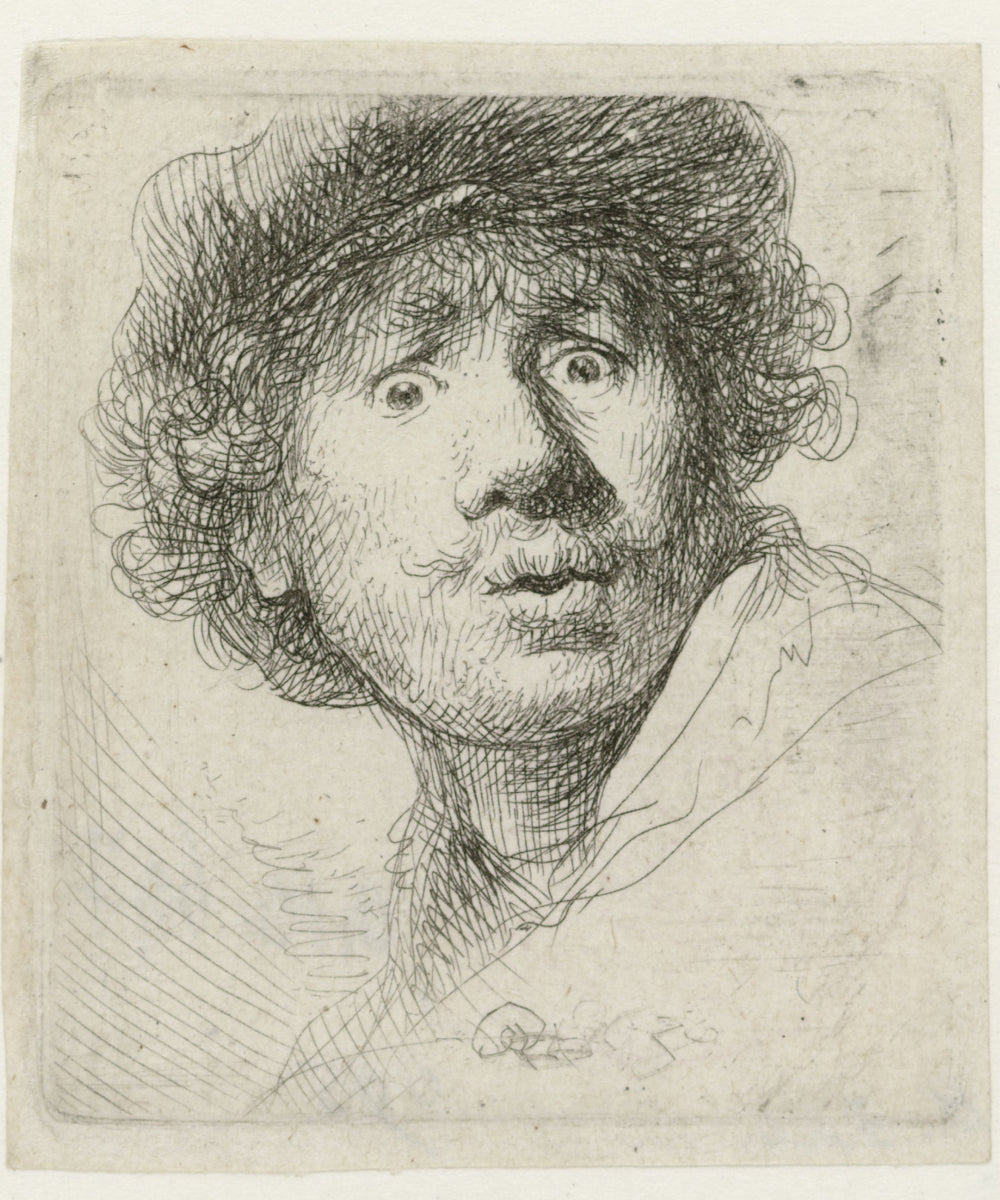 About the artwork
The Threatened Swan
'The Threatened Swan' shows a fierce swan spreading her wings in a protective yet aggressive pose, ready to defend her nest from an approaching dog. Although at first glance the work seems an apt depiction of a nature scene, it is often seen as a political allegory: the swan as statesman Johan de Witt, protecting the Dutch republic from enemies.
About the artwork
Self-portrait with beret, wide-open eyes
This charming and humorous self-portrait is an etching by Rembrandt van Rijn is entitled "Self-portrait with beret, wide-open eyes". Rembrandt made many self-portraits during his lifetime; both paintings and etchings. This is one of his earlier works, made when he was in his early twenties. It is a great example of a tronie, a portrait style in which people were depicted with exaggerated facial expressions and often in costume.
About the artwork
The Girl with the Pearl Earring
"The Girl with the Pearl Earring" is often known as the "Mona Lisa of the North" and is undoubtedly one of Johannes Vermeer's most iconic works. Although at first glance the painting looks like a portrait, it is more like a tronie: a study of a character or expression rather than a specific person. Although there was probably a model, a tronie was mainly about character and the use of light and shadow.